Anyone who suffers from any type of mental health condition and is getting support from a doctor CAN apply for Disability Support, no matter how small you think the issues are or how disabling you believe them to be.
Obviously, everyone who visits Disability Support has different needs; this is MY experience as someone with anxiety, depression and a personality disorder, but this in no way means that I would have the same DSN (disabled student notification) as somebody else with the same conditions. This blog aims to highlight just some of the beneficial support I get from Disability Support at university to help me to reach my full potential.
If you don't ask the answer will always be NO! Even if you're not sure whether you could be helped by Disability Support, PLEASE just pop by or make an appointment because they're the experts and it could save you unnecessary suffering. They have drop-in sessions at the beginning of the academic year for this reason, it doesn't take very long and all the advisers are honestly so kind and reassuring! The quicker this is done, the sooner things will be a lot more manageable for you. I went to Disability Support at the start of my second year, as I didn't actually realise I was a disabled student– I'd never seen my conditions as disabling before because I've lived with them for so long they are my normal!
The Green Form (doctor's letter): This is the medical evidence that you need in order to get the support. Your doctor writes a lovely letter to highlight any diagnoses, main symptoms and treatment. At the University Health Centre it's known as a "Green Form", and sadly you do need money as it is not an NHS service. Our doctor's surgery in particular likes to rip off us poor students so the price tends to become more expensive as the years fly past (somewhere around £40-£50). And – just to annoy us even more – it's cash only!
To avoid this: We highly recommend you get this doctor's letter from your home doctor's before moving to Durham – it'll probably be much cheaper for you! Things like hospital paperwork (for example if you've had inpatient psychiatric care) count too and can be used instead of this.
The appointment with disability support: Once you've received the doctor's letter, book an appointment with Disability Support or head to one of their drop-in sessions. They don't need loads of information about your disability, so there's not many personal questions. Within 1 hour everything was sorted out. This list is just to show you some of the help you can get from Disability Support:
exam concessions
smaller presentation audiences
permission to record lectures
summative extensions
If there is anything additional you need you can just send an email to the head of department or the relevant tutor making them aware of your DSN. Most of the staff are actually very willing to help you, but that does depend on the academic department (I do languages). If there is an issue with the department just contact Disability Support and they will do their best to sort it out – even if it means a 10 minute meeting to adjust your DSN.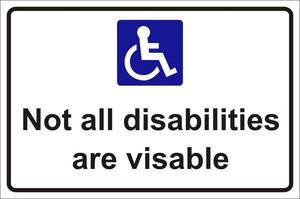 Concerns: I stressed about the idea of "everyone" knowing about my mental health problems; although I am open about them I still get uncomfortable when a member of staff brings up the topic of my struggles – even just asking if I'm alright! However, staff are appropriately trained and see hundreds of DSNs every year: if you consider that 1 in 3 people struggle with mental illness, plus other disabilities, that takes a big proportion of Durham students so there is nothing to be ashamed about. Although staff members who do teach you/come into contact with you will know about the disability, everything is kept 100% confidential and they don't get that much information anyway.
Resolving confusion: To begin with some of my lecturers did go a bit over the top with my DSN, but it was easily resolved with emails. Lots of staff are just conscious of our extra needs and tiptoe around not really knowing what they should and shouldn't do for the first week or so, and it's nothing personal or anything to worry about. If there is a discriminatory issue going on please get in contact with Disability Support! They are the people to stop this from happening!
Disabled Students Allowance (DSA): We are also allowed to apply for DSA via Student Finance England. This is (unfortunately) not extra money for us, but the government pays for any extra equipment or software we may need, including for example audio books and a mentor system. I decided against this in my second year because I felt like I had more than enough support and treatment going on, but after my year abroad I am definitely registering as I think it will help me a lot to think logically and guide my studies when my brain gets all tangled and overwhelmed. I'm not 100% sure how this works, but I think Disability Support help you to apply for DSA online or you can do it yourself, then you have a meeting to assess your needs with a DSA professional person, who will then organise the DSA support you need at university. The mentor comes to Durham Disability Support and sees you on a weekly basis. For more information, contact Disability Support or visit: https://www.gov.uk/disabled-students-allowances-dsas
This has all helped enormously with allowing me to better look after my mental health and do my degree at the same time without either of them being affected as much as they would without all this support from the university. I wish I had known that all mental illnesses are in fact classed as a disability and that I'm fully deserving of this extra help during my first year so that I could have accessed this all sooner. But hopefully this blog will help to raise awareness of this and I can stop at least one person doing the same as me!
How to get in contact: Send the Disability Support team an email to disability.support@durham.ac.uk or phone them on 0191 334 8115. Link to their website: https://www.dur.ac.uk/disability.support/
If you have any questions or queries please message the heads up team via our Facebook page https://www.facebook.com/durhamheadsup/ or email heads.up@durham.ac.uk and we will try our best to help! Also contact us if you are interested in blogging for us. Keep your heads up! Carys.